St. Michael was established in 1965 by Sr. Lillian McCormack of the School Sisters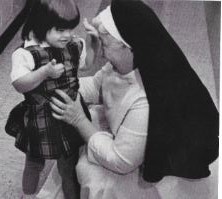 of Notre Dame with support from the Archdiocese of New Orleans to serve children and young adults with intellectual and developmental disabilities.
The location of the old St. Michael Parish was chosen because of its central accessibility. Just before the school opened, God sent Hurricane Betsy. The rectory of St. Michael was destroyed,
the beautiful church very badly damaged, properties all around battered, but the newly built St. Michael School stood untouched. God had his protective hand on us.
Since 1965, St. Michael School has been able to educate over 6,000 students with intellectual and developmental disabilities and minister to their families. This has only been possible with the support of the local community. There are many stories that will touch your heart. This school has been blessed with dedicated teachers and staff who take care of our precious blue roses, and they are able to blossom to become all God intended them to be.
"If there were such a thing as a Special Blue Rose, with what care it would be nurtured. Our children are that special." -Sr. Lillian McCormack, SSND